In the first half of 2018, the latest MHZS25 concrete batching plant in Philippines from Haomei is the new type MHZS25 concrete batch plant equipment which has features of elegant appearance, compared with the old machine, the overall size of the new machine has been significantly widened and heightened and productivity has greatly improved.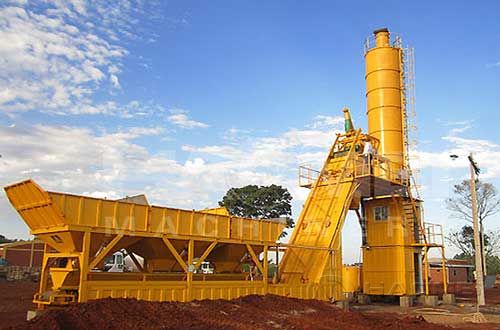 Professional MHZS25 batching plant manufacturer has summarized five steps for after using the concrete mixing plant in Philippines.
1. After work, shut down the MHZS25 concrete batch plants in Philippines as requirement according to the right order.
2. Check the wear condition of mixing blades and scale board after working; check whether the components need to be updated or the contact surfaces need to be lubricated; check whether the connection bolts are loose.
3. Check the surface of belt conveyor whether it has flake or fracture phenomenon and timely replace.
4. If the MHZS25 concrete cement batching plant does not work for a long period time and the hopper and storage bin can not save materials, clean inside of it before restarting it. Cement silo should take damp proof work to avoid hardening and freezing of cement.
5. After work, make sure the closing places of mini batching plants are closed.
We hope that operators should not ignore the above five steps of MHZS25 concrete plant in Philippines. Though these are the simple maintenance, you should take it seriously and earnest which can ensure the safety of MHZS25 concrete mixing plant in Philippines and prolong the service life of MHZS25 concrete batching plant in Philippines.